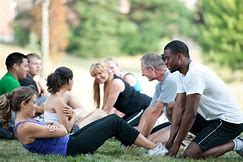 Our classes are all outdoors (Yoga + Spin indoors). All our fitness equipment is designed to be used by juniors up to seniors. Our focus is about quality over quantity; injury prevention is the key to long term consistency and strength gains.
The classes and exercises focus on all over body strength and conditioning to achieve overall fitness and personal results.
There is no such thing as "targeting" areas of the body and fat; it needs a whole body workout to achieve total bodily results- whether it is weight loss, maintenance, strength gains, or to tone up.
Our classes cater for ALL shapes, sizes, ages and abilities. You do not need to be necessarily 'fit' to begin with; just in good health and injury-free to be able to get going.
(You are required to fill out a consultation PAR-Q before embarking on the classes).
All we ask from you is to bring a bottle of water, appropriate clothing for the seasons, a small towel and a determination to work hard throughout the session; come rain or shine we will be there with you!
First Evening Bootcamp session is FREE -We advise that you book online for your classes in advance! (See the online booking form on our home page).